Hotel Info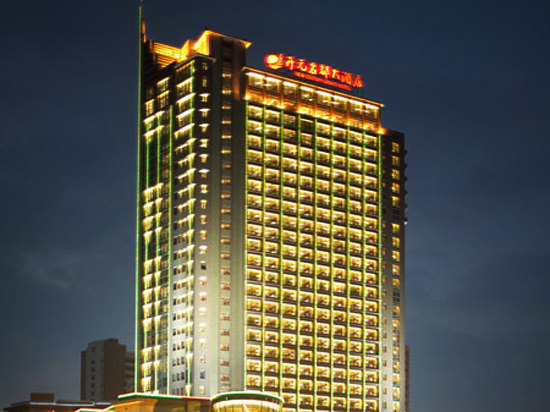 Songjiang New Century Grand Hotel Shanghai
is located on the east side of Kaiyuan Plaza in Songjiang New Town, Shanghai, next to the Central Park, close to Songjiang Bishan National Tourism Resort, and a large-scale theme park that gathers 'dynamic, fashionable, joyful and dreamy'-Shanghai Overseas Chinese Town Happy Valley is only a 5-minute drive, with beautiful surroundings and convenient transportation.
Songjiang New Century Grand Hotel Shanghai
was built by Kaiyuan Tourism Group, one of the Top 20 Chinese Hotel Groups. The hotel is majestic in appearance and luxurious in style, and integrated into the Shanghai International Metropolis with services that perfectly integrate Oriental culture and international standards. With more than 400 luxurious rooms of all kinds, stylish and elegant furniture, original bathroom design, and VIP Chinese-style tea basket service with Kaiyuan features, guests can enjoy Kaiyuan care. Whether you are on a business stay or a holiday, you will be greeted with comfort. Zh
Songjiang New Century Grand Hotel Shanghai
has nearly 1,640 seats and 24 luxurious dining rooms with different styles. It gathers Chinese, Western, and Japanese cuisines. The chefs provide exquisite meals at affordable prices. It is an ideal place for your dinner. And the hotel has perfect modern conference facilities, different specifications of conference rooms, 800 square meters of pillar-free multifunctional hall Kaiyuan Hall and more than 10 large and small conference rooms. The conference equipment of Fusion Technology can meet all high-end conference venues need. In addition, the hotel provides a fitness center and a heated swimming pool for guests. Away from the hustle and bustle of the city, feel the moment of relaxation, fitness equipment, professional fitness instructors, invite you to forge a perfect body together. The indoor swimming pool designed by international standards, swimming coaches are full service, hug a pool of clear water and enjoy the pleasure of swimming.